Why are Russia and Ukraine at war?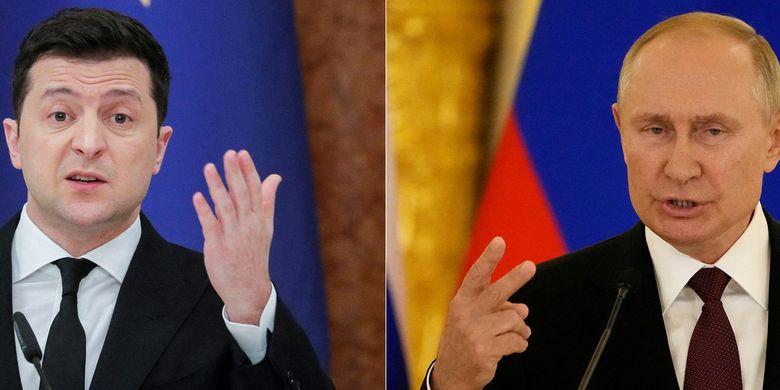 Banaspati -- On February 24, 2022, Russia began to attack Ukraine, causing explosions in a number of major cities in Ukraine.
The attacks on a number of major cities in Ukraine came after Russian President Vladimir Putin said in his speech about the declaration of special military operations in Ukraine.
Moments after the speech was broadcast, the sound of explosions was heard in Kramators, Ukraine.
After the attack, at least 137 Ukrainians died and 316 were injured.
So, why did Russia and Ukraine go to war?
Quoted from the BBC, moments before the attack, Putin said in his speech that the reason Russia attacked was because Russia could not feel safe, develop and exist because he thought modern Ukraine was a constant threat.
Russia refuses to call the attack a war or an invasion.
Putin claims that his goal of waging war is to protect people who are subjected to intimidation and genocide.
In addition, Putin said the attack was aimed at demilitarization and denazification.
However, this reason was denied by the President of Ukraine Volodymyr Zelensky.
Zelensky said there was no genocide in Ukraine.
Zelensky also called Ukraine a democracy with a Jewish President.
"How can I become a Nazi?" Zelensky said.
Ukraine is part of Russia
Many believe that the main reason for Putin's attack on Ukraine is due to Ukraine's plan to join NATO.
Quoted from the CNN page, Putin had said that NATO's expansion was an existential threat and if Ukraine joined a Western military alliance this would be an act of hostility that could pose a threat to Russia.
So far, Putin has emphasized his view that Ukraine is part of Russia culturally, linguistically and politically.
For this reason, Putin opposes Ukraine joining NATO.
Ukraine and NATO
Russia even demanded legal guarantees that Ukraine would never be admitted to NATO, although those demands were rejected.
In an essay in July 2021, Putin identified Russia and Ukraine as one and said the West had undermined Ukraine and pulled it out of Russia's orbit.
But so far it seems that Putin's efforts to pull Ukraine back into Russian territory have met with a lot of backlash.
In the last three decades, Ukraine has been trying to get closer to Western institutions such as the European Union and NATO.
As a result of his actions, Russia has come under international criticism with the United States, European Union, Japan, Australia and the United Kingdom imposing sanctions against Russia.